There are many Captcha Entry Job sites out there where one just have to solve Captcha to make money. I have personally tried several Captcha Entry Job Sites and found that only a few of them are genuine and pay on time. All you need to have to work with them is a computer with an internet connection and the ability to type at least 10 Words Per Minute.
2Captcha is one of the best captcha entry job site. The good thing about 2Captcha is that the Captchas load very fast and it takes no more than 10 seconds between two Captchas during interval. One can earn up to 1.20$ for every 1000 captchas solved. You get 10 seconds to enter a character, so I hope you won't miss any captcha.
Minimum Payout – $3 for PayPal | $0.5 for WebMoney | $1 for Payza | $1.3 for Perfect Money and AdvCash | $1 for Bitcoin
---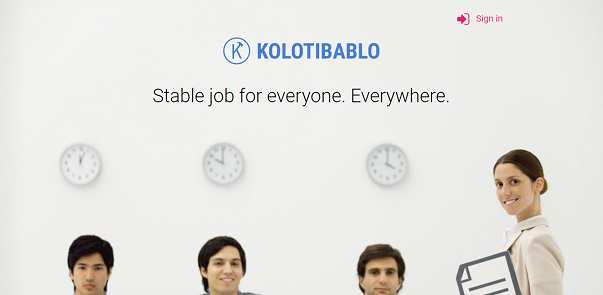 Kolotibablo is one of the top Captcha entry job site. They pay $0.35 to $1 for every 1000 Captcha images you type correctly according to level which you are on. To get inspired , check their latest stats where you will find the top earner. Like most other Captcha Entry Job site , they too are strict so don't make too much mistakes while typing to keep your accuracy high. You need to have $5 in your account in order to withdraw via PayPal otherwise $1 is the minimum payout for most other withdrawal options.
Minimum Payout – $1
Payment Options  – Litecoins | Yandex Money | Bitcoins | Paypal | Payza | AdvCash
---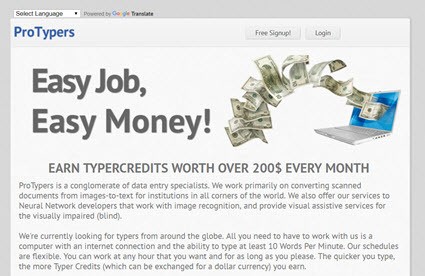 ProTypers could be your second job if you have some free time. A beginner can start with $0.45 for each 1000 word images he types correctly and go up to $1.5 for 1000 Recaptcha once he gains some experience. The schedule is flexible and you can type anytime and as long as you want to.
Minimum Payout – $100 for Western Union | $3 for almost all other Payment Options
Payment Options – Debit Cards | Bank Checks | Paypal | Bitcoin | WebMoney | Perfect Money | Payza | Western Union
---